News Consortium
The most outstanding news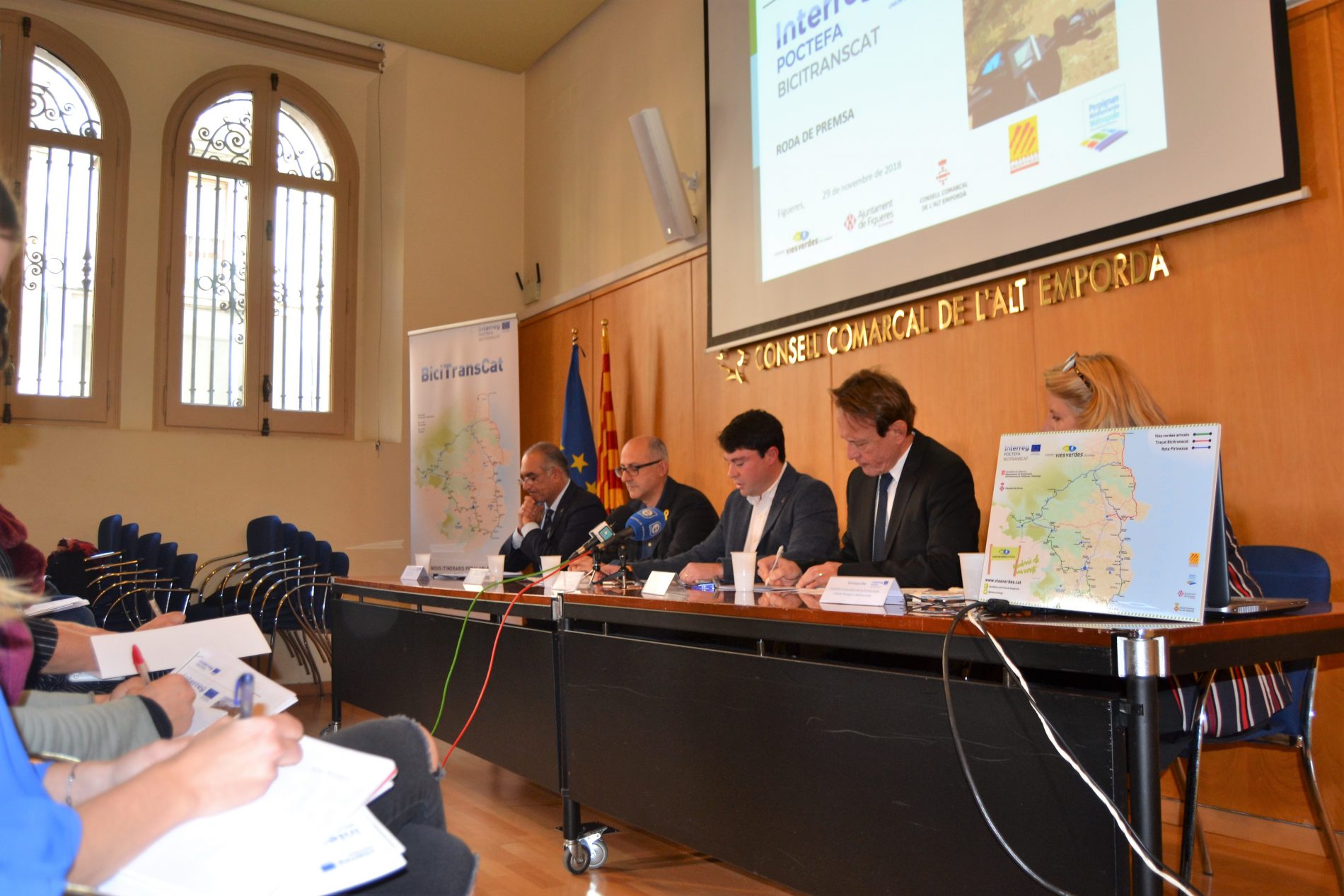 29/11/2018
With a budget of 4.6 million euros, the project is co-financed with European funds
This Thursday, the offices of the Regional Council of the Alt Empordà have seen the presentation of the project known as "EFA 156/16 BICITRANSCAT. Development of new cyclable and multimodal cross-border links to promote sustainable mobility". The presentation was made by Joan Cano, Regional Councillor for Tourism, and Albert Gómez, president of the Girona Greenways Consortium. The act was attended by Véronique Olier, representing the Perpignan Méditerranée Métropole, Robert Garrabe, Vice President of the General Council of the Pyrénées-Orientales, and Francesc Cruanyes, Deputy Mayor of the Figueres City Council.
The project has a budget of 4,689,269.25 euros, co-financed with 65% of European Regional Development Funds (FEDER), through the INTERREG V-A Spain-France-Andorra Programme (POCTEFA 2014-2020). The objective of POCTEFA is to strengthen the economic and social integration of the cross-border area linking Spain-France-Andorra. The funding is focused on developing cross-border economic, social and environmental activities through joint strategies aimed at promoting sustainable territorial development.
23/08/2018
Electric bike chargers
The electric bike is an element that is contributing to changing the paradigm of city transport and also tourist mobility, helping to change the mobility habits of today's society and to provide a sustainable alternative to private vehicles.
The chargers are located in the municipalities of Castelló d'Empúries, Torroella – L'Estartit, Palafrugell, Palamós, Sant Feliu de Guíxols, Llagostera, Cassà de la Selva, Olot, Sant Joan de les Abadesses, Camprodon and Ripoll. In addition, it should be noted that there is already a charging point provided by the city council in Girona.