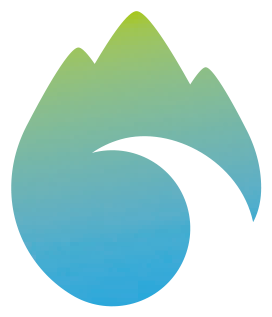 The Volcanic region of La Garrotxa. The routes of the Fageda.
Link between Iron Route and Narrow-Gauge Railway Route
Carrilet I Route
Narrow-Gauge Railway Route II
Link between Narrow-Gauge Railway Route and Iron Route
OLOT AND THE NATURAL VOLCANIC PARK.
The city is located in La Garrotxa Volcanic Zone Natural Park, which boasts the most important volcanic landscapes in the entire Iberian Peninsula. The volcanic activity is linked to the Neogene- Quaternary fault system that affects the entire zone we pass through on our route. In geographical terms, it is a very recent mechanism, and one that shaped the area's current orography and landscape. For example, the depressions of the Empordà and La Selva regions, which we cross on our route, were created by this fault system. In addition to giving rise to most of the volcanoes in this region, the Amer fault, the most recent in the system, has caused seismic movements that have had an impact on the human population, for example the earthquakes of 1427 and 1428, which affected the historical heritage of towns such as Amer, Olot, Sant Joan de les Abadesses and those in the Vall del Tec. In fact, the latter valley, which we also cross on the route, owes its current orientation and morphology to a fault belonging to this system.
THE VOLCANO CENTRE
This Modernist building standing in Parc Nou houses the information centre for the Natural Park and the Volcano Museum which provides clear, educational information on the seismic and volcanic features of La Garrotxa. Don't miss the earthquake simulator!
SECRETS OF THE GREENWAYS ROUTES
From Olot there are three 'Secrets of the Greenways' routes which take you to the most interesting features of the park:
The Art of Landscapes. This route starts at Les Fonts de Sant Roc, just as you arrive in Olot. It goes in front of the Casal dels Volcans and takes you to some of the region's most emblematic scenery, a source of inspiration to artists.
Beech Woods Amidst Volcanos. Connected to the previous route, this route takes you to the Jordà beech wood and the Croscat volcano. The Jordà beech wood is highly unusual because
it grows on flat ground on top of a former lava outflow from the Croscat Volcano. Thanks to the excavation made for cinder quarrying, you can now observe the internal structure of this volcano. We can find more detailed information at Can Passavent, the interpretation centre located here.
El Montsacopa volcano and the three lava flows. On leaving Olot heading north, taking the turnoff to the greenway that goes to La Vall de Bianya, you can make a brief stop at Montsacopa, an 'urban' volcano whose summit provides an excellent view of the whole town. If you follow the greenway towards La Vall de Bianya you eventually come to the village of Llocalou that marks the start of the Three Lava Flows route which takes you to some fascinating cliffs composed of basalt columns.