Narrow-Gauge Railway Route I
This 57-km route crosses three regions and twelve towns, following the valleys of the Fluvià, Brugent and Ter rivers. The Narrow-Gauge Railway Route descends smoothly from Olot (440 m) to Girona (70 m). Its highest point is at Coll d´en Bas, which is a pass situated 558 metres above sea level. The trail, which is suitable for hikers and cyclists alike, is in very good condition, fitted with bridges, railings and signposting.ó.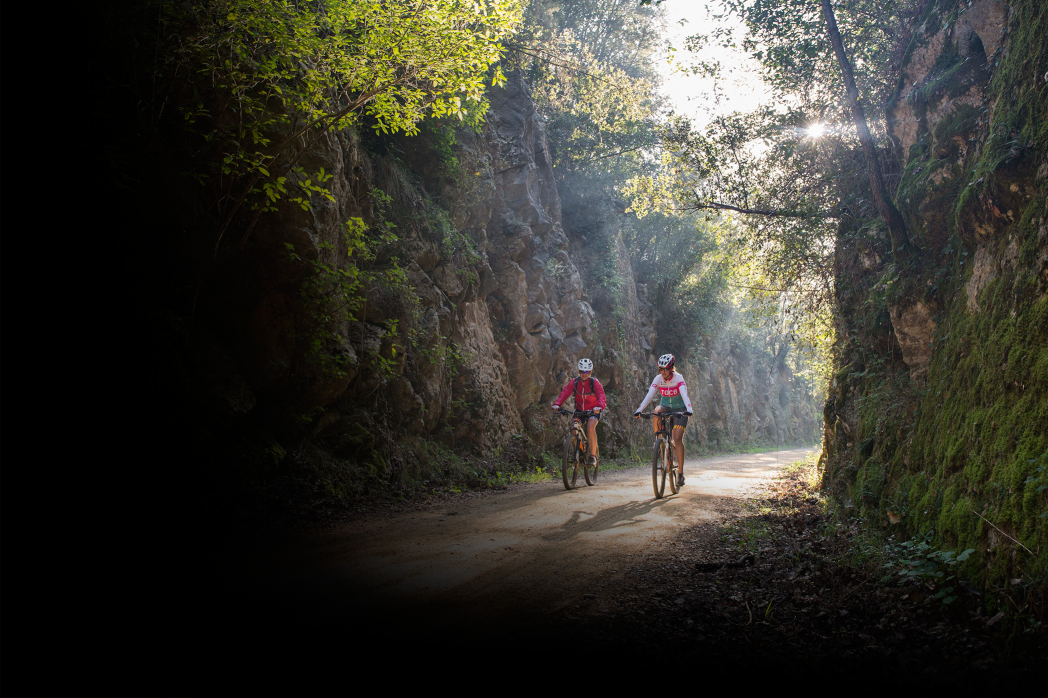 Pavement Packed granite sand
Maximum altitude 620 m (coll d'en Bas)
Minimum altitude 70 m (Girona)
Services WC (in stations) / Amer All-Terrain Cycling Centre / Picnic area in Les Planes d'Hostoles / Tourist offices
The Narrow-Gauge Railway Route crosses through magnificent scenery of great ecological and cultural value. It begins in the Garrotxa Volcanic Area, and following the old narrow-gauge railway line, reaches the Ter valley and the pasturelands of Salt and Girona. The old rail line that connected the Garrotxa and Gironès regions now allows visitors to discover the natural resources of the Garrotxa Volcanic Area, the Hostoles castle, and the towns of Anglès, Sant Feliu de Pallerols and Girona, among others. The last section of the trail runs along the Ter River as it crosses the pasturelands of Salt and Girona. Here is where hikers and cyclists alike can see how the river´s resources have been harnessed and put to good use.
Once in Girona, join the next stretch of the Gauge Railway route towards Sant Feliu de Guíxols. You can also opt to cycle the first few kilometers of the future Tren Pinxo route, which currently links Girona and Sarrià de Ter.
How to get there
RENFE
Barcelona – Portbou (Girona Station) -NO train to Olot-
Pl. Espanya, s/n – 17002 Girona
Ticket reservation: tel. 902 24 02 02
www.renfe.com
HIGHWAYS
AUTOPISTA AP-7 (A-7) MOTORWAY
C-63, N-1417, N-260 and N-II Highways
www.mobilitat.net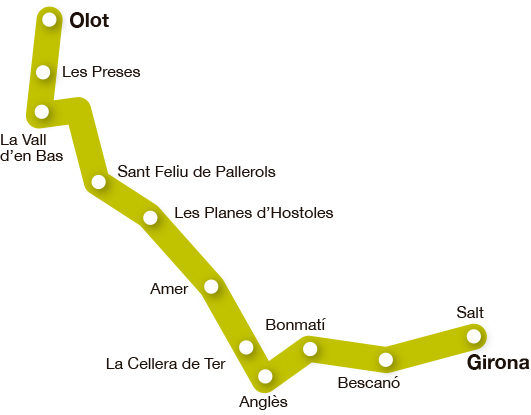 Accessibility
ROUTE FOR AN EXTRA / second OUTING OR THOSE IN GOOD PHYSICAL SHAPE
Olot (from Fonts de Sant Roc) to Les Preses: 5 km. Easy stretch.
This can be followed to Sant Esteve d'en Bas (3 km) if assistance is provided to cross the underpass which has been built to cross the Vall d'en Bas by-pass (not recommended during periods of heavy traffic).
Sant Feliu de Pallerols – Amer: 13.5 km. Easy/intermediate stretch. Highly recommended stop-off at the picnic area of Les Planes, right beside the greenway.
Option 1: Set off from the Tourist Office in Sant Feliu de Pallerols until reaching the Information Point in Amer.
Option 2: If you have a car or can arrange to use the hire/transfer service, you can begin the route from the top of Coll d'en Bass (you need to be quite experienced to be able to brake well on the way down!) which will add another 5.5 km to your route.
Amer – La Cellera de Ter – Anglès: 7.5 km.
After Amer, when we reach Pasteral, we need to cycle along the edge of the road; otherwise the ascent is extremely difficult! Signposting in Pasteral has been improved recently which has increased safety for users. Take particular care when accessing the bridge over the river known as Riera d'Osor.
In general, it is possible to follow this route on an adapted bicycle or wheelchair, although it is preferable if you have assistance. In Anglès, the main road can be crossed with the aid of traffic lights. From Bescanó onwards, we can continue towards Girona through the parks known as the Deveses de Salt and the green areas of Santa Eugènia (recommended stretch), or by crossing the main road using the underpass at Montfullà and by taking the urban bike lane through Salt.
Adapted bikes for rent: https://www.viesverdes.cat/en/lloguers/atma-logistic-bike-center/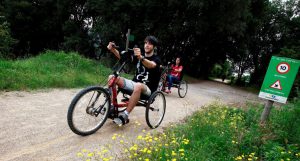 Access the google maps of the route and view the route, services, points, ...
Access the map