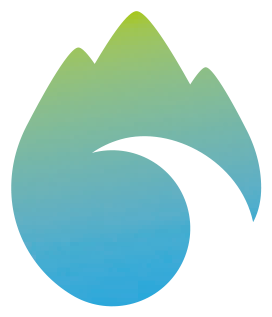 Gironès Sud Circular Route (37 km)
Girona - Quart - Llambilles - Cassà de la Selva - Sant Andreu Salou - Fornells de la Selva - Girona
Combining the Carrilet II greenway and the new greenway along the Gironès Sud plain, you can enjoy a 37 km circular route starting from the Carrilet station in Girona, passing through Cassà de la Selva and Fornells de la Selva.
Along the 37 km route, you will discover the city of Girona and its surroundings, passing through charming villages connected to the natural and rural landscape. Halfway through the route, you will find Cassà de la Selva, where we recommend a stop to see the remains of its cork-making past (an industry that originated in Cassà de la Selva in the 18th century) and then continue the route from the Carrilet train station.
This intercity route combines several types of cycle paths: a greenway shared with pedestrians, a two-way cycle path, a protected cycle lane in an interurban area and a street in a 30 km/h zone.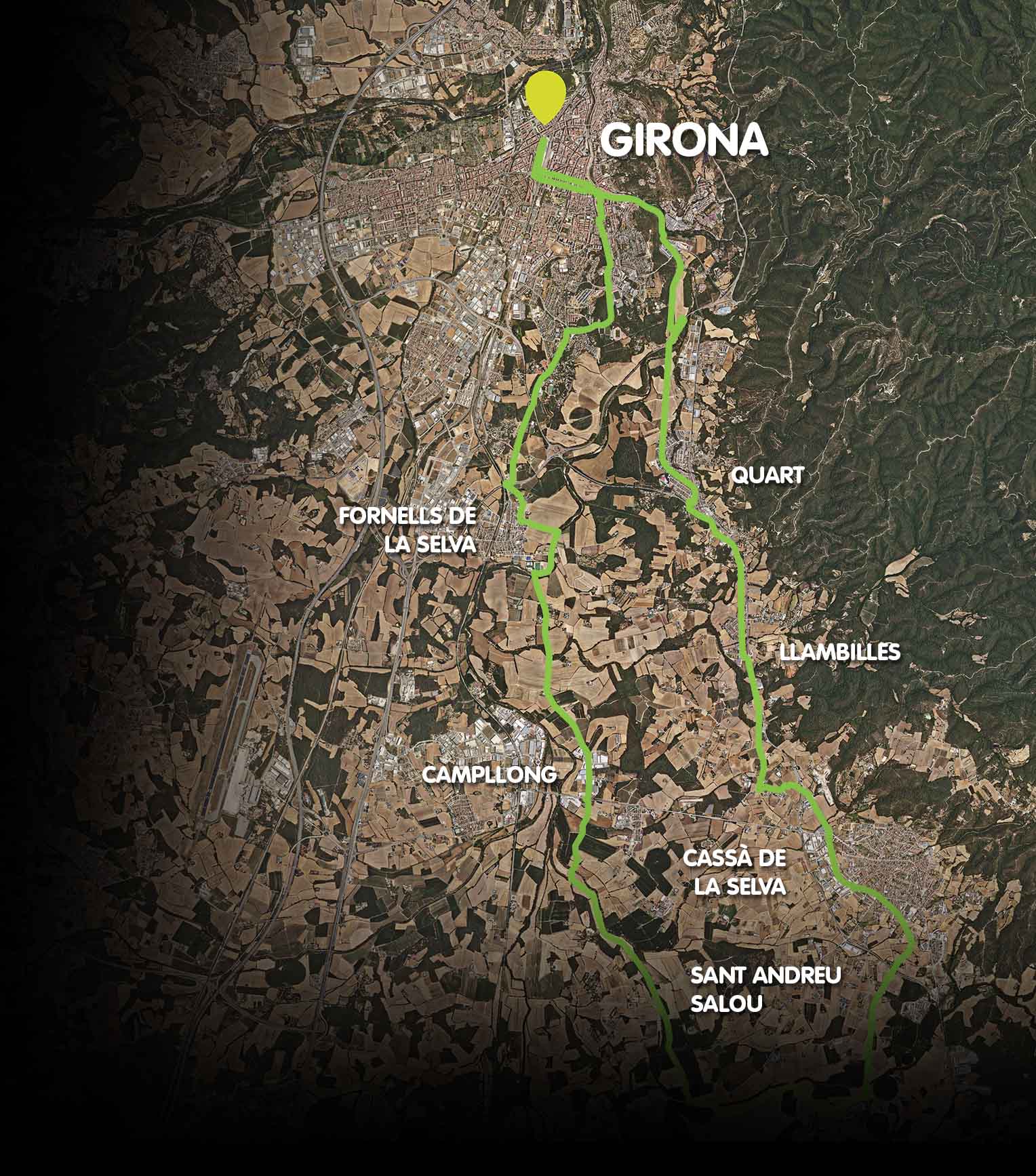 Pavement Tot-ú road, asphalt
Services Bicycle rental (cycling, Biker Centre, eBici) / Motorhome parking (Girona)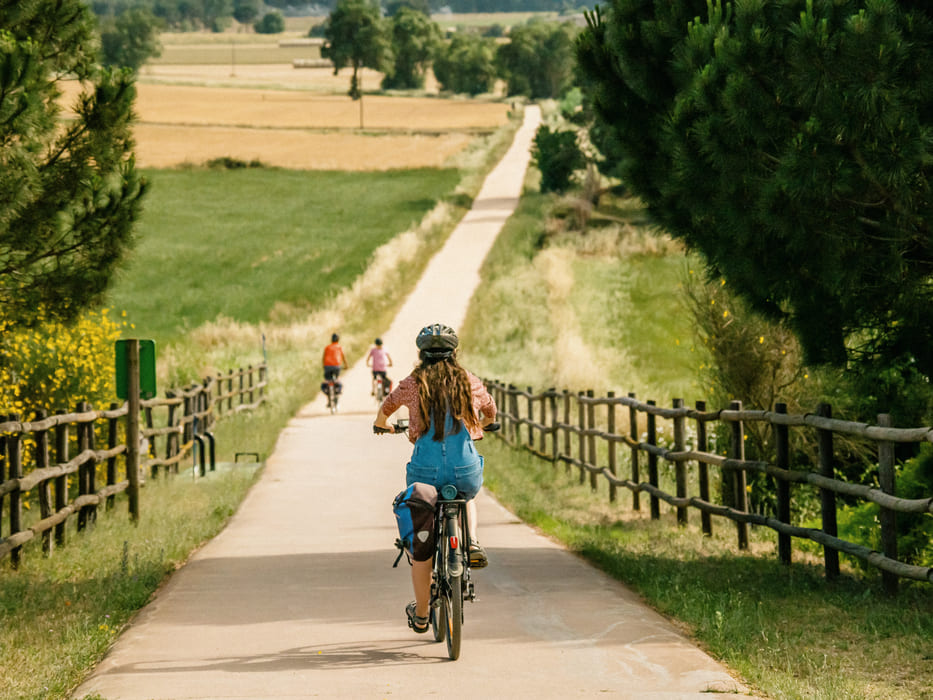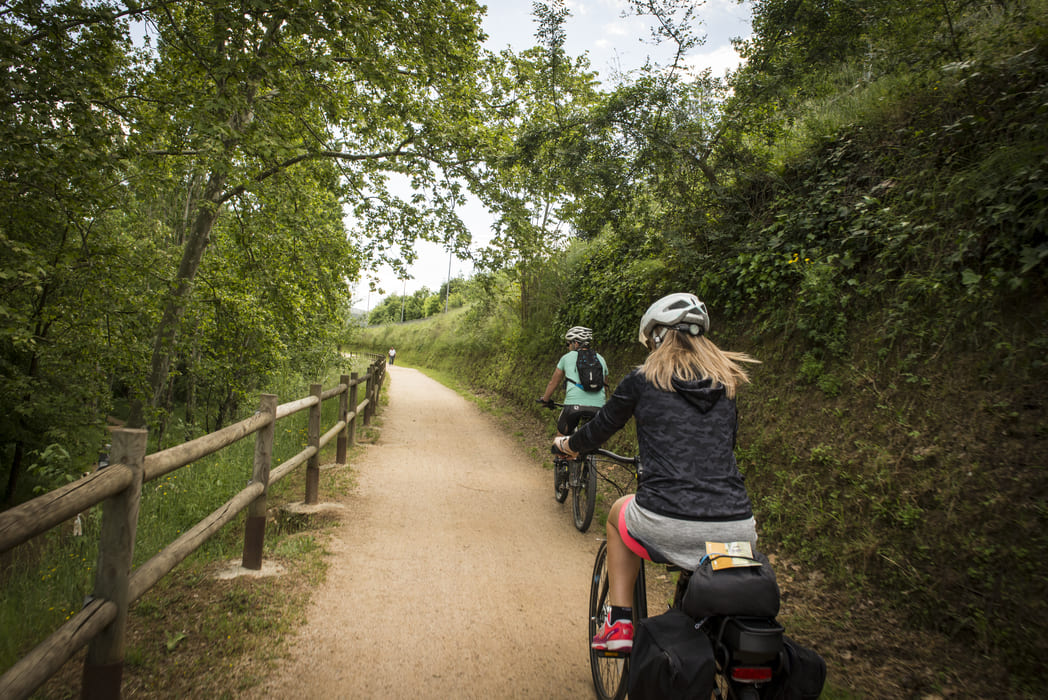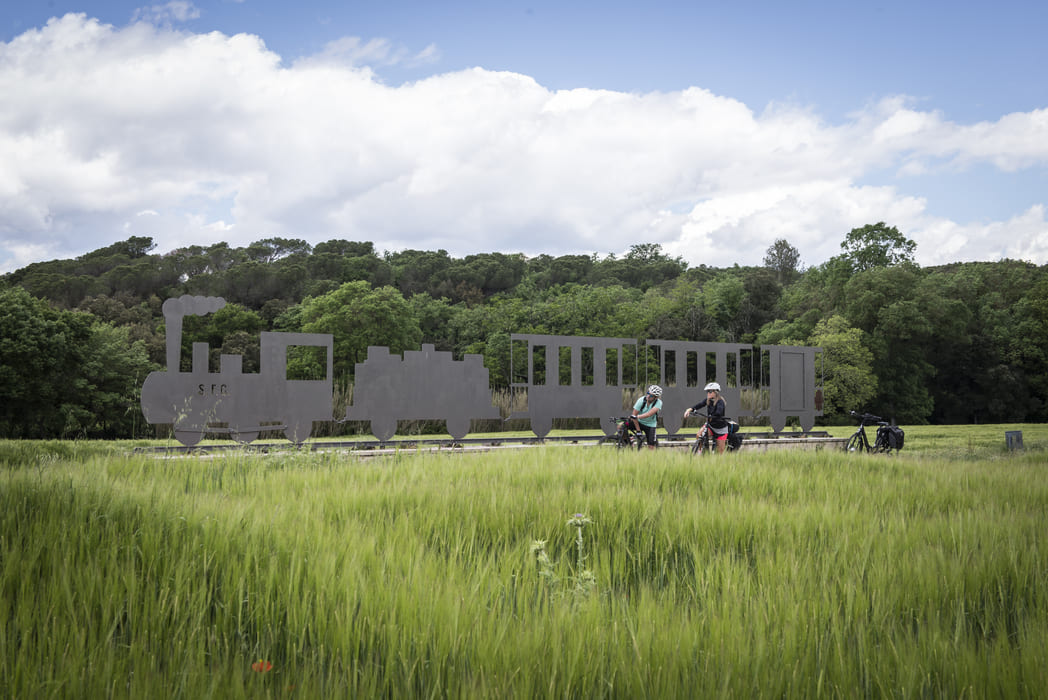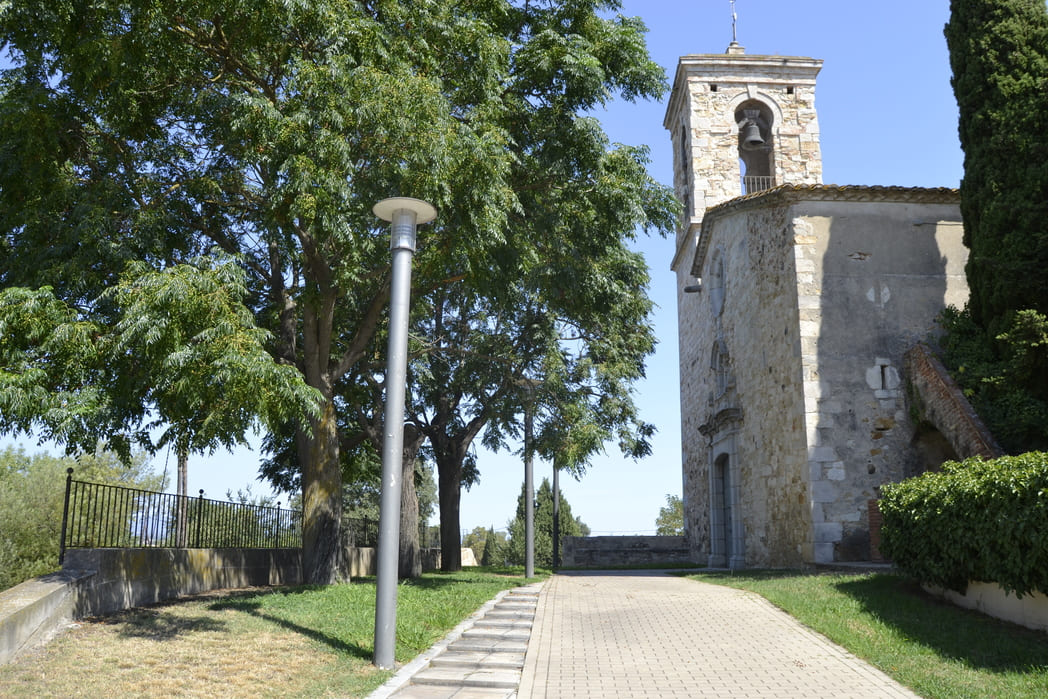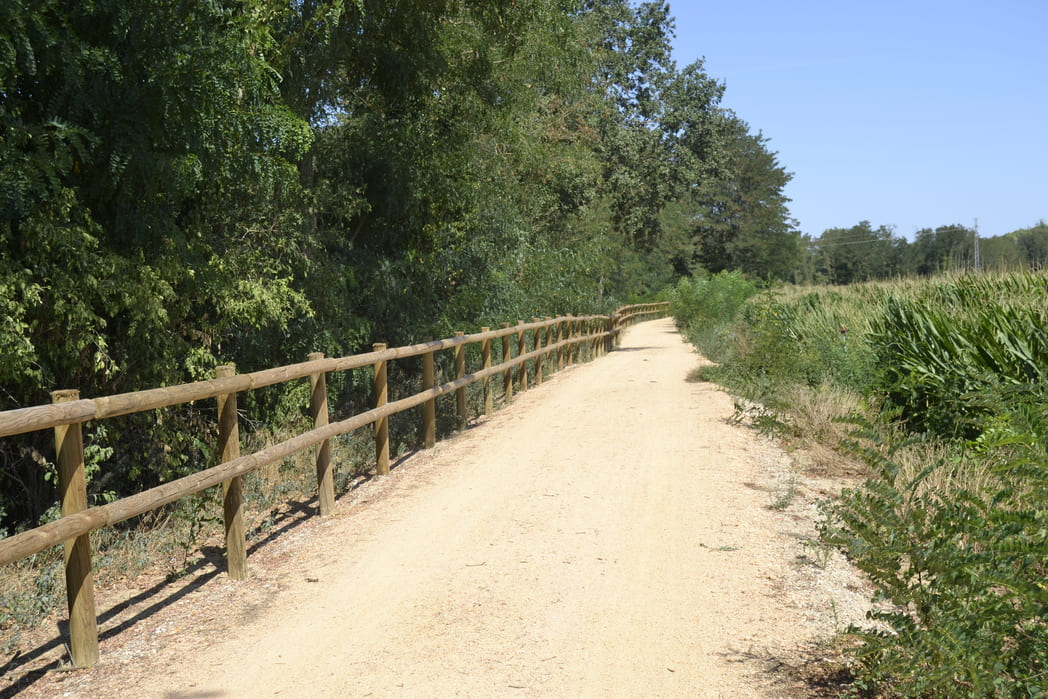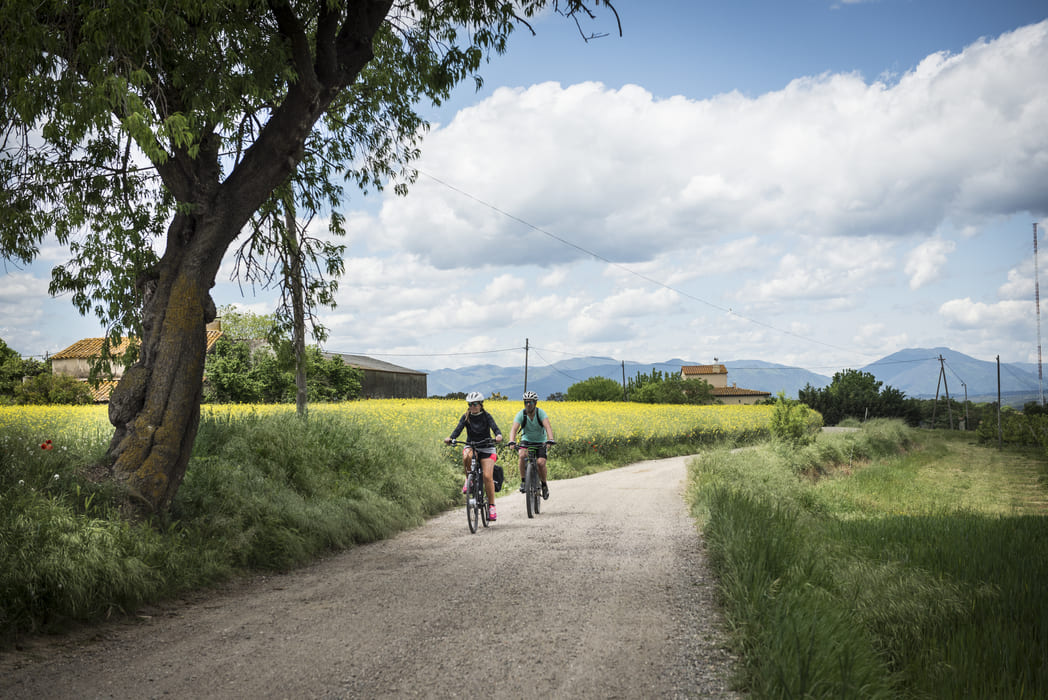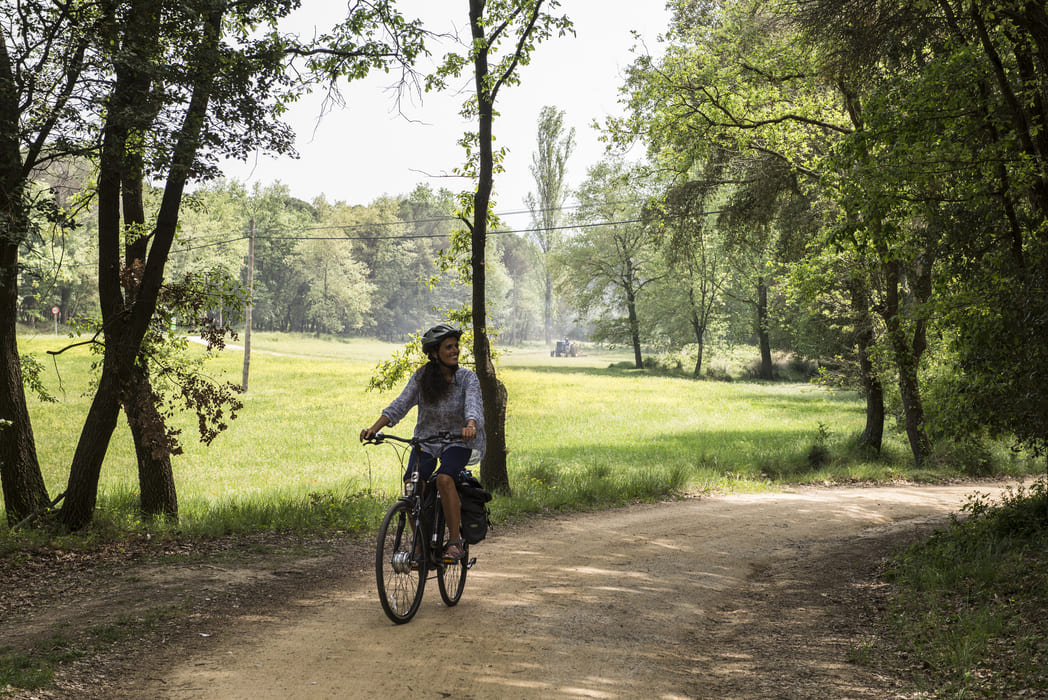 DIRECTIONS
This is a circular route that starts and ends in the city of Girona. Leaving Girona train station, you should head towards Emili Grahit street, crossing Central Park along the cycle lanes. At the end of Emili Grahit street, you will find the start of the Carrilet II route. You will have to follow the Carrilet route until you reach Cassà de la Selva (15 km), cross the centre of the town and about 3 kilometres further on you will find the turn-off for the Thermal route. After a couple of kilometres on this route, you will find the turn-off for the Pla del Gironès Sud route, which goes in the direction of Sant Andreu Salou.  Following the route, you will have to cross the towns of Sant Andreu Salou, Campllong and Fornells de la Selva The route is signposted until Fornells de la Selva. From this point, you must make the connection with the Girona route from the entrance to the city, in the Creu de Palau area, to the starting point of the route, following the streets and urban cycle lanes of the city of Girona.
We recommend following the route with the GPS track, as it is a combination of different existing routes.
How to get there
RENFE
Barcelona Sants-Portbou – L'Hospitalet de Llobregat-Figueres/Portbou (R1, RG1, R11)
Stations: Girona, Fornells de la Selva, Riudellots de la Selva, Caldes de Malavella
Tickets: Tel. 900 41 00 41
https://rodalies.gencat.cat/time/index.html
GIRONA - COSTA BRAVA AIRPORT
Tourism office: Tel. 972 186708
Flight information: Tel. 972 186 600
Tel. 972 20 48 68
www.aena.es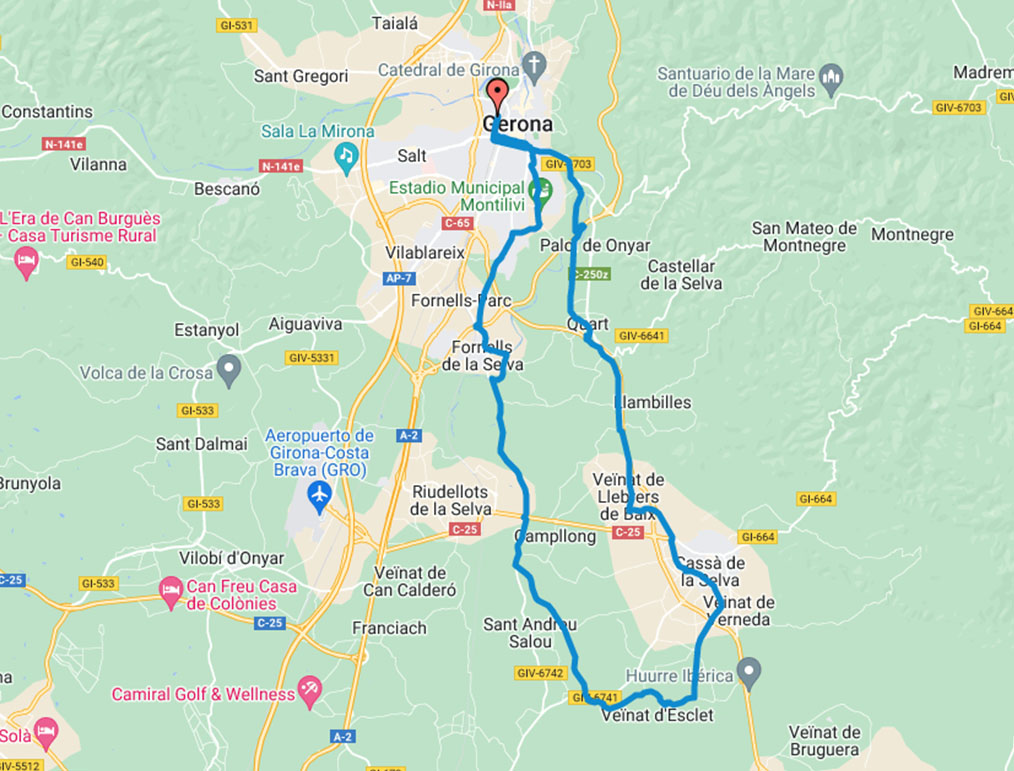 Access the google maps of the route and view the route, services, points, ...
Access the map