Alt Empordà route
The Alt Empordà comarca is the first Catalan destination on the Pirinexus route. It covers a surface area of 51.8 km, with flat cyclable stretches in a very good state. Along the route we will pass through wooded areas, agricultural vineyards, rice fields and apple orchards.
History, culture, art and designation of origin gastronomy are just some of the things we can find in the comarca, famous for its north wind known as the Tramuntana.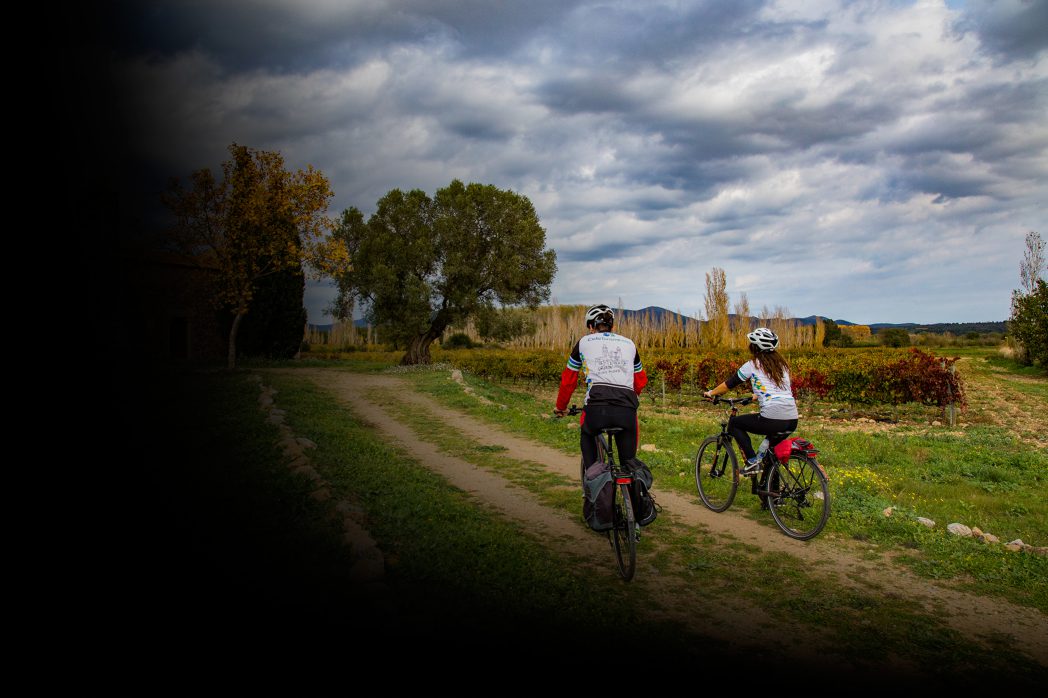 Slope Very variable depending on the section. La Jonquera - Masarac, much more accessible on the rest of the route.
Pavement Graded-aggregate, asphalt
Maximum altitude 0 m (sant Pere Pescador)
Minimum altitude 340 m (Coll de Panissars)
Services Support points / Tourism offices
Having crossed through the complex and irregular stretch of the Coll de Panissars, we reach La Jonquera, a town marked by contrasts between large commercial centres and an old traditional centre where we can find the Exile Memorial Museum and the Interpretation Centre of L'Albera. When we leave La Jonquera, we can cross Capmany, a town impregnated with wine-making culture, which boasts a large selection of cellars dedicated to the production of DO Empordà wine. Continuing across the Empordanese plain, and following the River Llobregat, we find ourselves in Peralada, a town brimming with history, from the ancient walled settlement of the Ibers to its well-known castle museum. Don't forget to taste DO Empordà cava before leaving this area!
A visit to Figueres is also a must while in this area and we only need to take a short detour of 6 kilometres off our route to get there. Once there, a visit to the Dalí Theatre-Museum is an absolute must. This museum bears the name of the famous Catalan painter who is known as one of the fathers of surrealism. If we follow La Muga nature trail, we reach Castelló d'Empúries, a town which still retains its old medieval character. From Castelló, we can then continue along La Muga nature trail greenway, passing through the Aiguamolls Natural Park, where we can enjoy a great close-up view of the local bird life.
After this, from the wooden bridge over the River Muga, we can continue until we reach Empuriabrava. This unique urbanisation has 24 kilometres of waterways. If we follow the signs, we arrive in Roses: a fishing town that maintains traces of different civilisations from the last twenty five centuries. Continuing along the route, we find the ecological plain in the form of the Aiguamolls de l'Empordà, which, as well as providing a safe haven for large numbers of fauna, has also been used to cultivate rice and other crops, alongside the next town on the route: Sant Pere Pescador. This town, whose vibrant tourist industry coexists alongside a strong agricultural sector, hosts the annual windsurfing championships.
We now arrive at the last point on the route: L'Escala. This famous fishing town retains two important traces of history: Sant Martí d'Empúries, a small medieval site with Greek archeological remains, and the town's world-famous anchovies.
Download the track and the detailed guide to check if there are any specific difficulties reported at each stretch and to find out about the best tourist attractions in each area. 
How to get there
FIGUERES RENFE STATION
Tel. 972 504 661
CAMALLERA RENFE STATION
Tel. 902 432 343
GIRONA-COSTA BRAVA AIRPORT
Tourism office: tel. 972 186 708
flights information: tel. 972 186 600
ot.aerogirona.ctc@gencat.net
www.aena.es
Ryanair bus service links the airport with Girona bus station.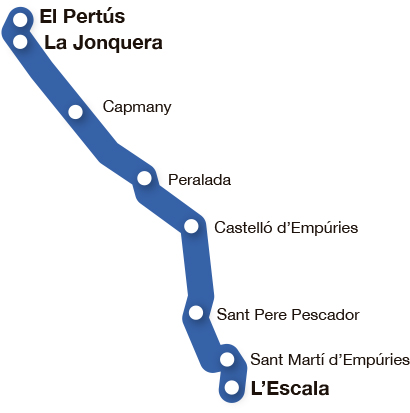 Access the google maps of the route and view the route, services, points, ...
Access the map